High quality, for the masses. This is our goal here at Nemonte, and we inch closer to that goal everyday. Our mission is to serve the people and be a part of the e-transportation movement. We achieve that through controlling every aspect of our production line, from research to design, building and testing, we not only ensure we deliver to the world excellent products, but also something the world needed.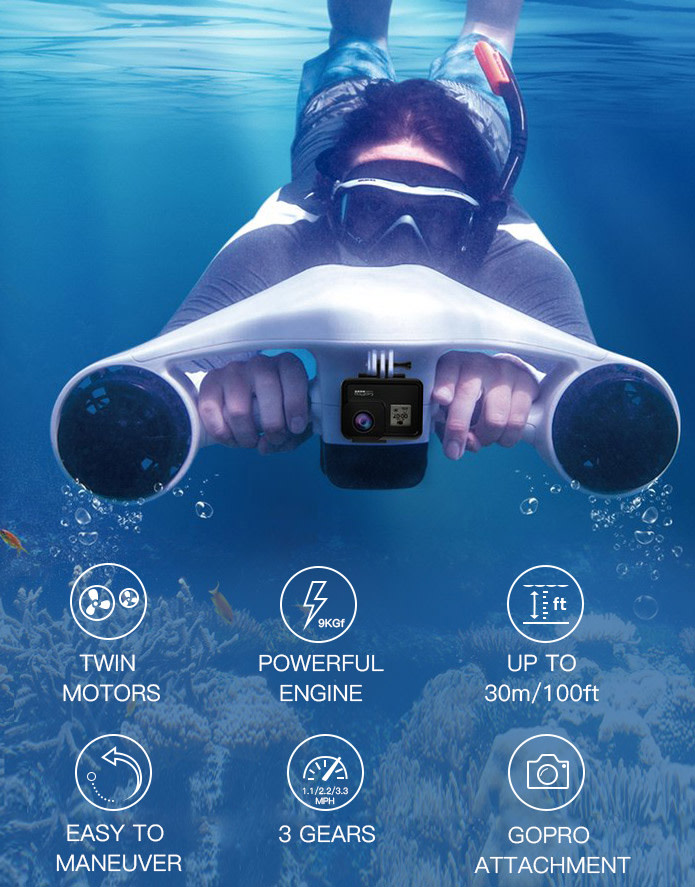 Don't let buoyancy restrain you any longer. With the 2019 Water Scooter, the sea bed is the limit. Experience all the ocean has to offer with up to 30m/100ft of diving!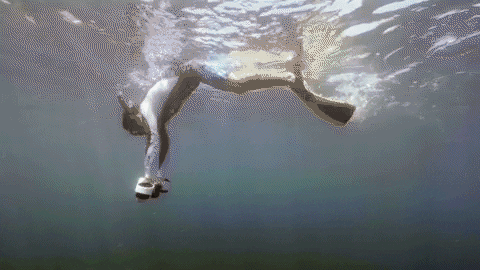 We bring whole upgraded  waterproof bag to you. With higher quality, beautiful appearance, best match with Sea Scooter. This product promotion is still suitable for the first 100 backers.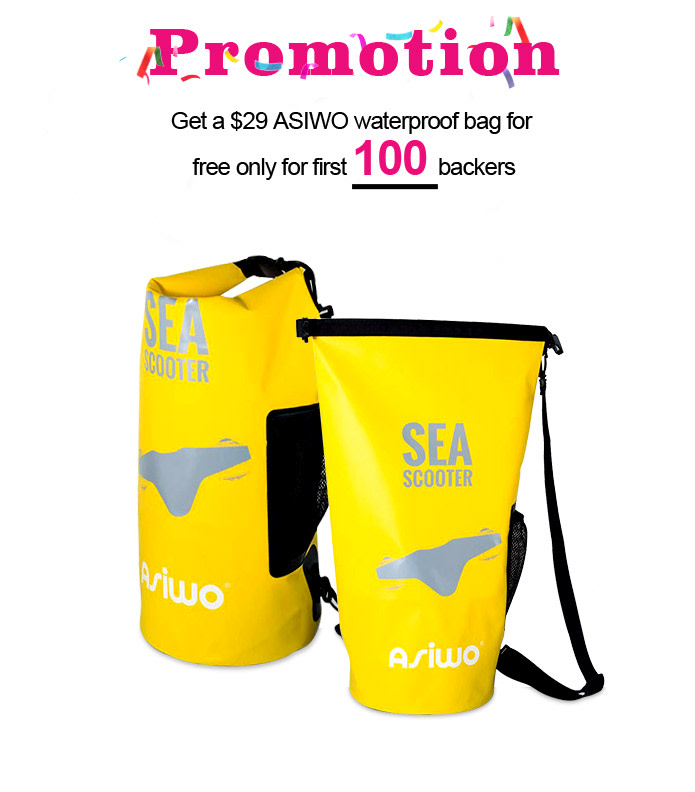 Both the Asiwo Turbo and Asiwo Turbo Pro support single – handed operation, something we
learned from listening to you during our public tests. This new feature gives you the freedom to
move around while having another hand free for other activities.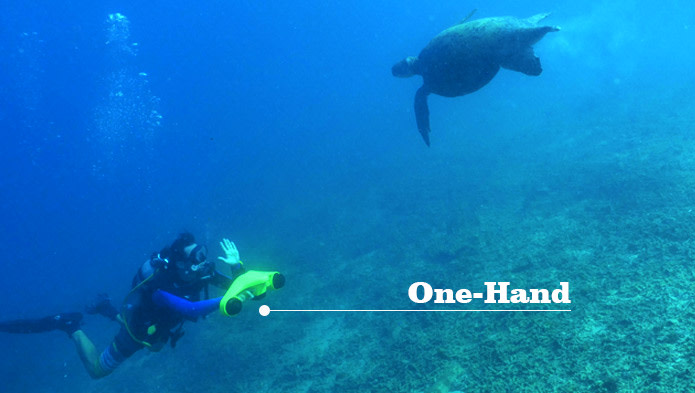 Easy operations for better use. ASIWO TURBO  SEASCOOTER is designed with 3 gears speed.
1. Press the on-off button simultaneously on both sides of the wing to enable it.
2. Press twice the right wing button for the next up gear (when you need to speed up)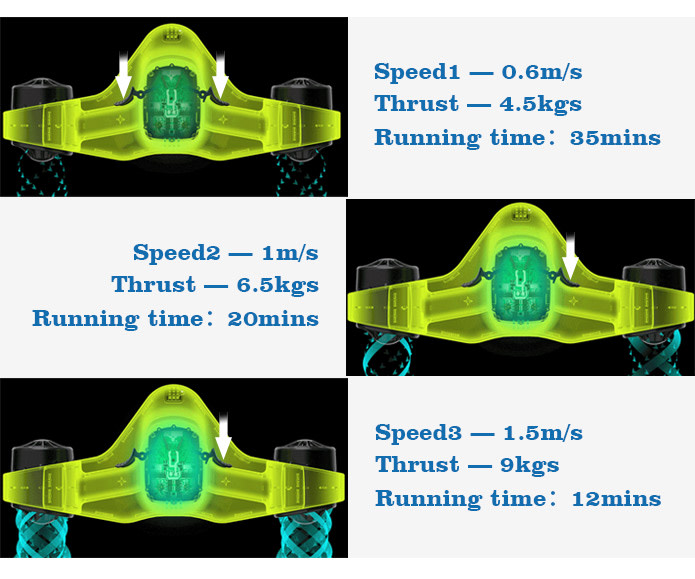 Press twice the left wing button for the previous gear (when you need to speed down). Adjust the gear according to your needs in fast or low water flow.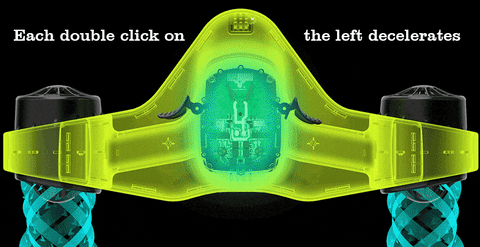 The Asiwo Turbo Pro increases and optimisms the battery life, giving the Sea Scooter the ability to run for up to 70 minutes. With the same functionality as the standard Sea Scooter, 3 gear speeds and 30m depth, this larger battery capacity unfortunately cannot travel with you on an airplane. That being said, if flying isn't an issue and you want more time in the water, the Turbo Pro gives you more than double the amount of time in the water then the standard model, that's 70 minutes of swimming, diving and exploring.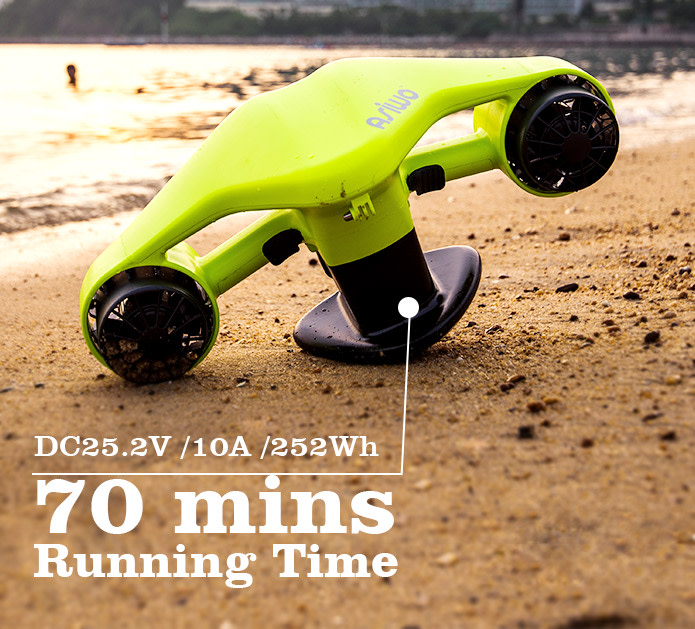 Forget heavy weights and other techniques to get you closer to the action, take the scooter for a trial, with a depth of 30m/100ft see just how easy it is to touch the floor. Or swim along side the fishes with ease with 3 gears of speed, allowing up to 3.5mph.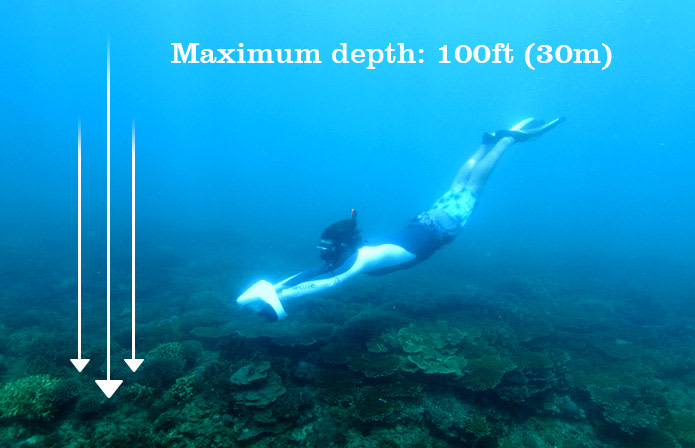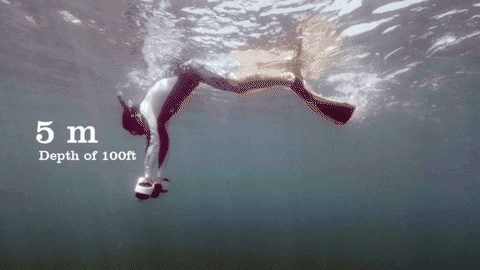 With the innovative advancements in chip technology, we've managed to ensure extremely low power consumption to not only give you longer usage and standby time, but more powerful thrust too. With two 600W motors, one on both sides, you can expect quick startups and fast journeys.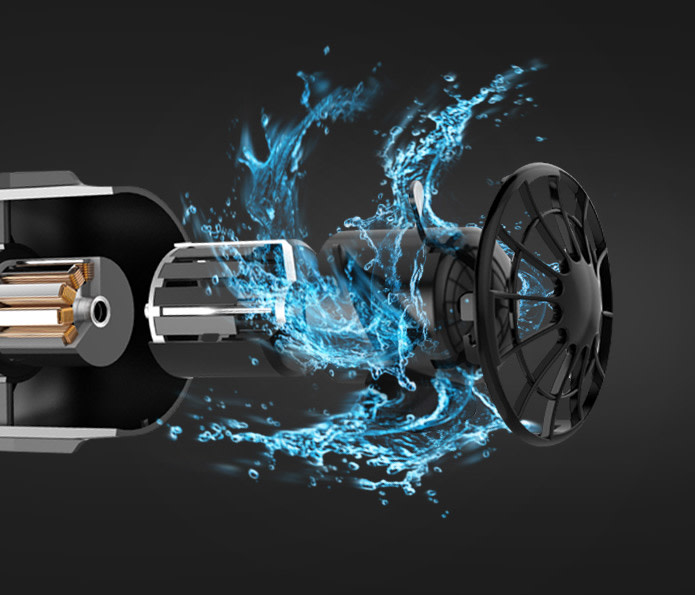 It's specially designed and tested body ensures a streamlined flow of water around and through the scooter, and your passage. With less resistance also comes less noise.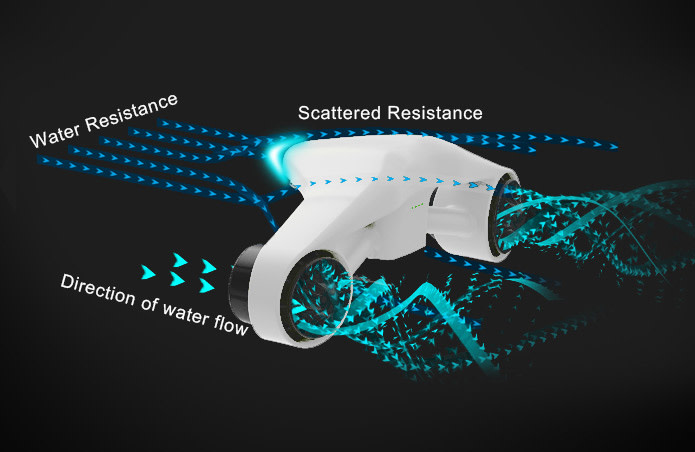 A built-in GoPro attachment on the front housing means you can capture everything you see while below the surface. It also acts as a safety float for your devices, since the Sea Scooter floats to the surface if you let go, your devices safely reach the top with it.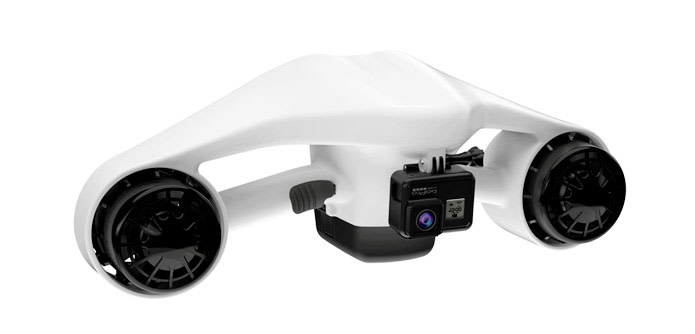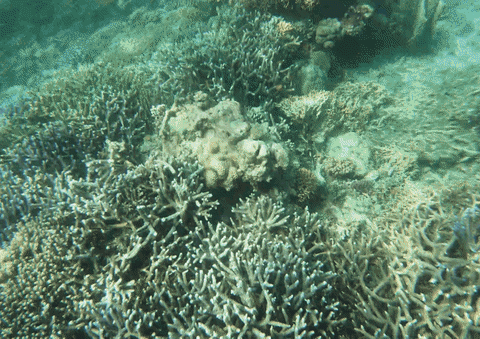 Being the most powerful personal water device to hit the market this year, we also had to make it the most portable. At only 21.3cm in length and 52.7cm wide, we designed it to be perfectly shoulders width apart to not only maximise its power, but it's comfort and portability.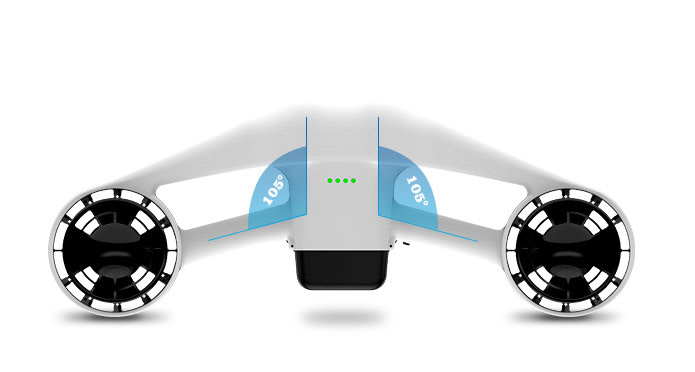 After several tests, followed by several more modifications to the final design, we decided to add a buoyancy chamber to allow the Sea Scooter to naturally float back up to the surface if dropped or out of power.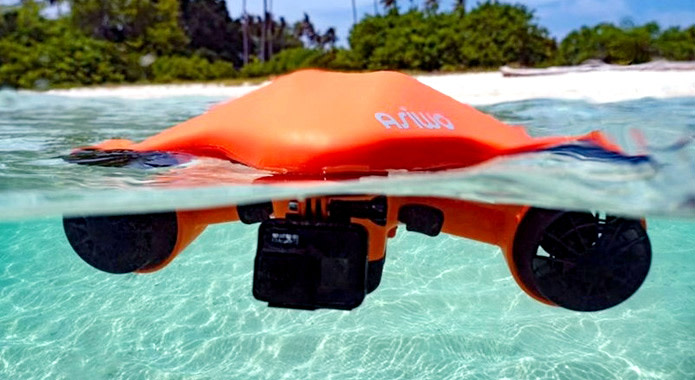 Safety is important when partaking in water sports, you can't be distracted or fiddling with gadgets, especially while underwater. We know the importance of safety and have ensured that the operation of the device is as simple as possible, while also including safety measures such as lock mode and a buckle design on the battery to keep it secure.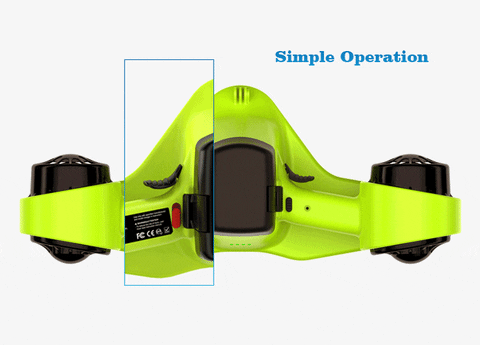 We've also added useful features like a power display on the backside, so you can view while using the scooter, allowing you to plan accordingly. The charger also allows the ability to charge two batteries at once to save time.

Weighing in at only 7.7lbs (3.5kg), you can safely pack and bring the Asiwo Water Scooter to any vacation or trip, with no stress of check in or weight limits. It's also light enough to carry around beaches and swimming pools without breaking a sweat.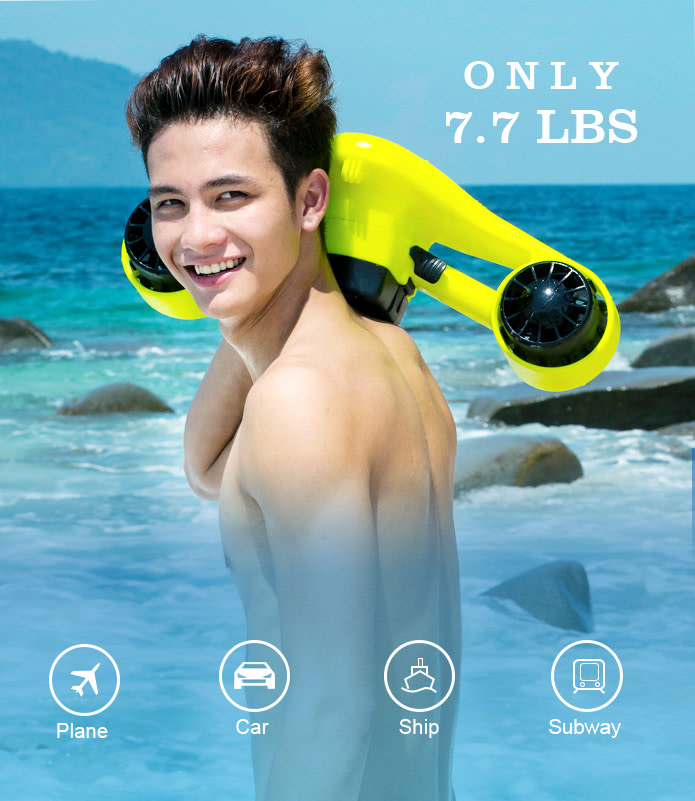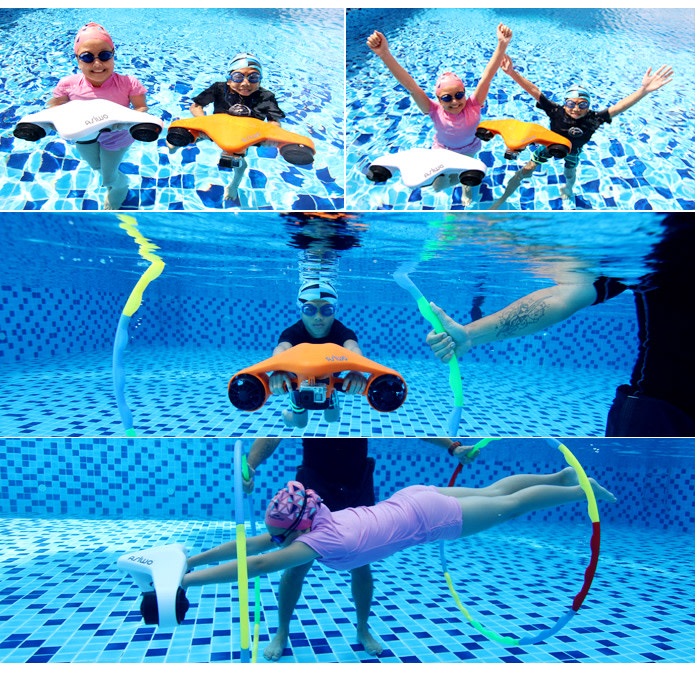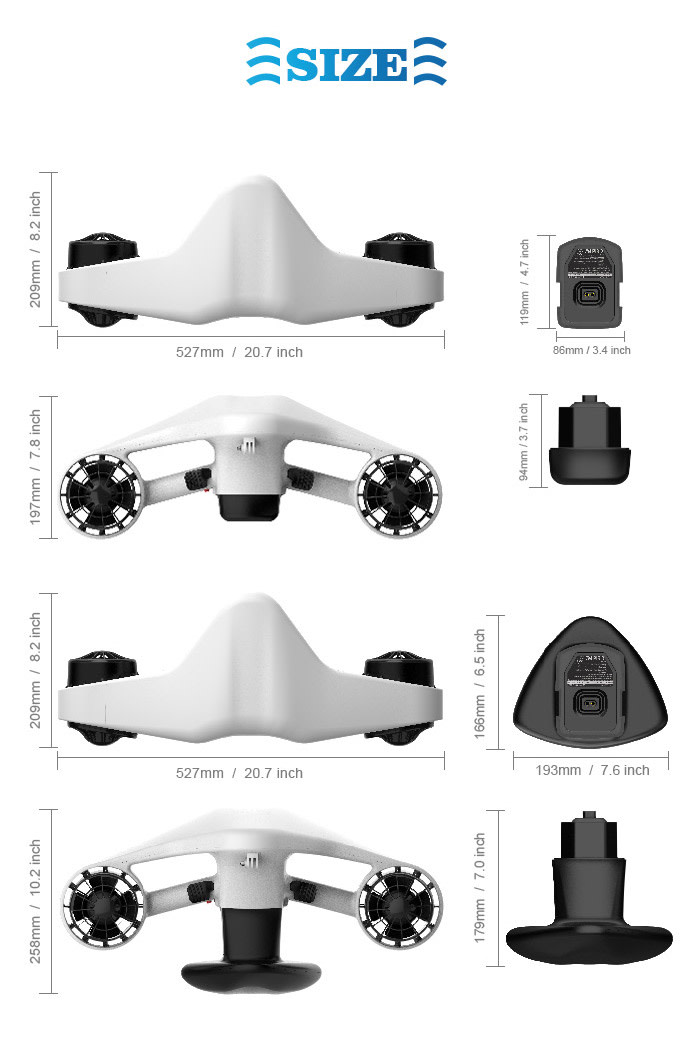 Light in weight, small in size, plentiful in components.