ANNIVERSARY SALE–ONCE WE REACH 500 UNIT SALES, WE WILL BE INCREASING THE PRICE BACK UP TO $119.00!!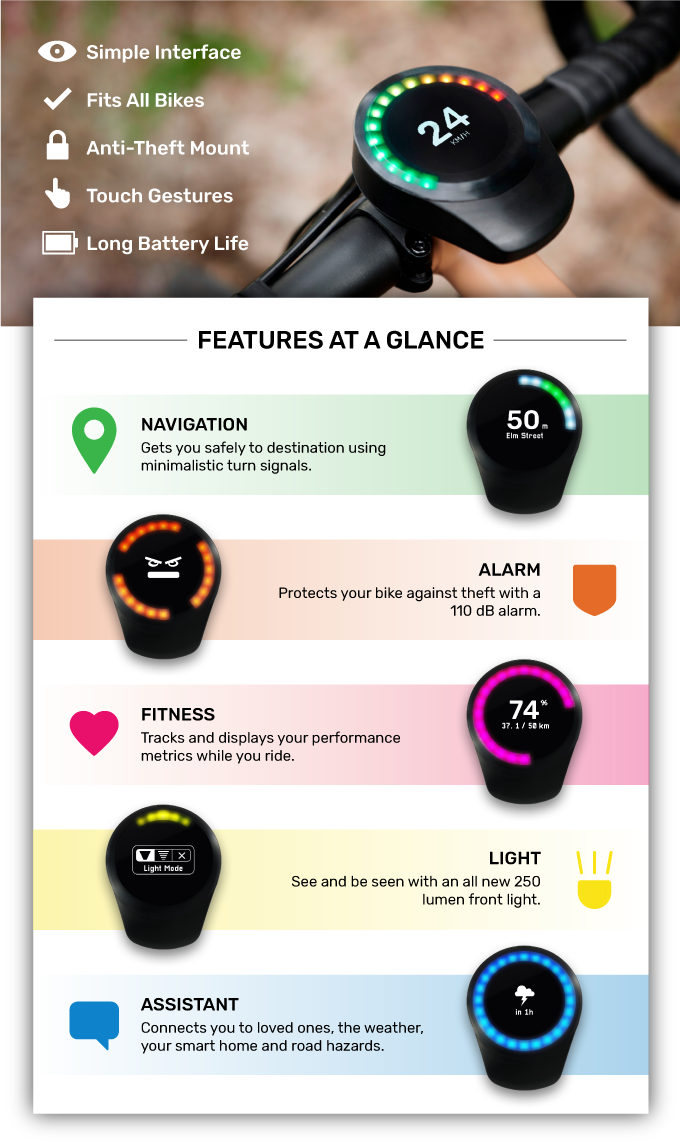 Designed by cyclists, for cyclists; SmartHalo 2 is the all-in-one connected device that breathes life into your bike. It helps you discover new routes with clear navigation signals. It protects your bike with an ear-piercing anti-theft alarm. It lights your way with a completely redesigned, all-powerful front light. It tracks and displays your cycling metrics without having to push a single button, syncing with the fitness apps you already use.
A Minimalist Interface Designed for Cycling
We're obsessed with simplicity – we want cyclists to focus on their ride, not on tech.That's why there's no on or off button on SmartHalo. It greets you with a colorful animation of your choice as soon as you hop on your bike and turns off on its own when you're done riding.
Our patented, luminous halo gives you just what you need, at a glance. It lights up in the direction of your turns. When you're aiming for that fitness achievement, your progress fills up. When receiving an incoming call, it pulsates like a heartbeat – a loved one is calling. This is not another overly complex bike computer. 
Combining the Circle's Simplicity to the Pixel's Versatility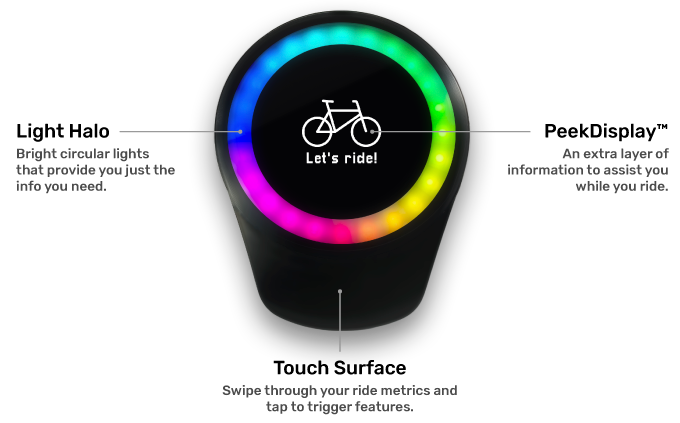 We went the extra step to make sure SmartHalo 2 fits your biking life. We're introducing PeekDisplay™, a complementary way to show you more, without distracting you. With its crisp white pixels, it complements our signature Halo and makes every single SmartHalo feature better and more comprehensive, while still keeping it simple.
This Is YOUR SmartHalo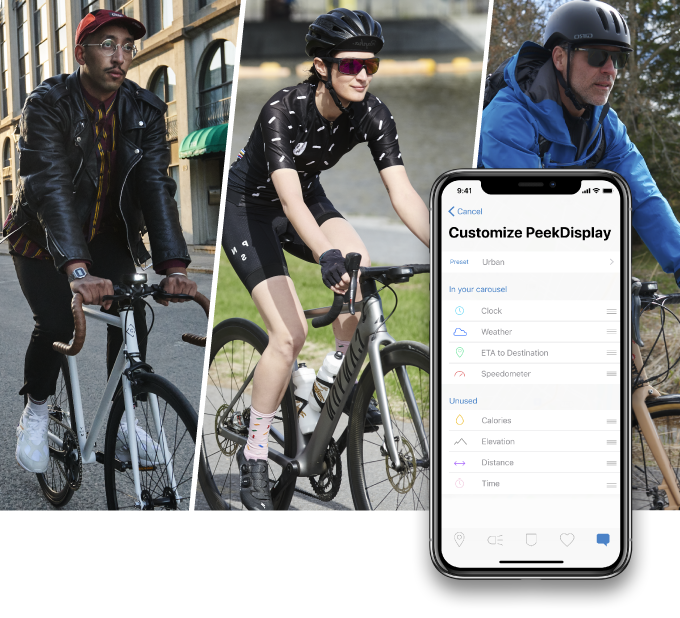 Customization is at the core of SmartHalo 2. You choose which bike metrics to display. Need some help getting to your destination? Choose the route type you prefer. You can even define your own shortcuts: an easy way to trigger the features you use most, without taking your phone out. Combined with new swipe gestures, PeekDisplay™ allows you to do more with SmartHalo, and do it your way. Your bike, your ride, your SmartHalo.
Always There for You

Urban cyclists know the pains of bike theft. Unlike other bike accessories, SmartHalo 2 remains on your bike at all times: it's securely locked on your handlebar and only your unique HaloKey™ can unlock it. This means SmartHalo 2 is always there for you, ready to guide you, measure your performance and assist you. When you leave, it seamlessly arms the motion-triggered alarm. No need to think about it: your bike is protected against theft.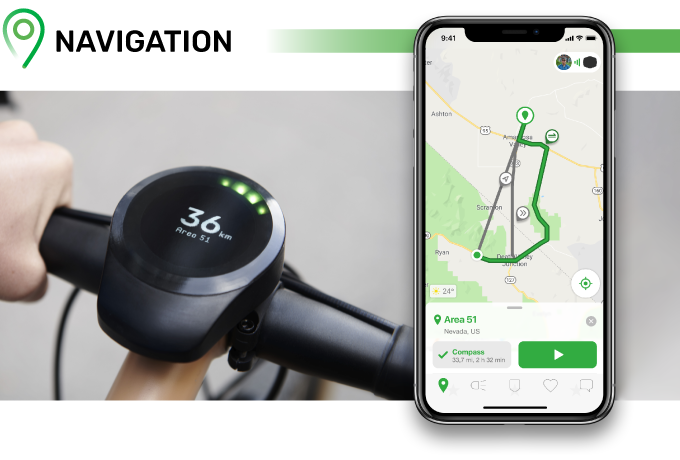 Unlike other bike GPS devices, there's no need to preload any maps or any of that non-sense: just grab your phone and you're good to go. We're using Google to make our maps and search the best out there: this means that you should be able to find any place you're looking for. For turn-by-turn directions, we're using HaloRoute™, our own routing system, custom made for cyclists. You can choose between the fastest, safest, flattest or our recommended route.
SmartHalo stays on your bike, remember? When you're not around, it becomes the guardian of your bike. Any persistent meddling will trigger a 110 dB alarm: enough to fend off the most persistent thief.
As soon as you get back to your bike, SmartHalo detects the SmartHalo app running in the background of your phone. It then proceeds to disable the alarm and greet you.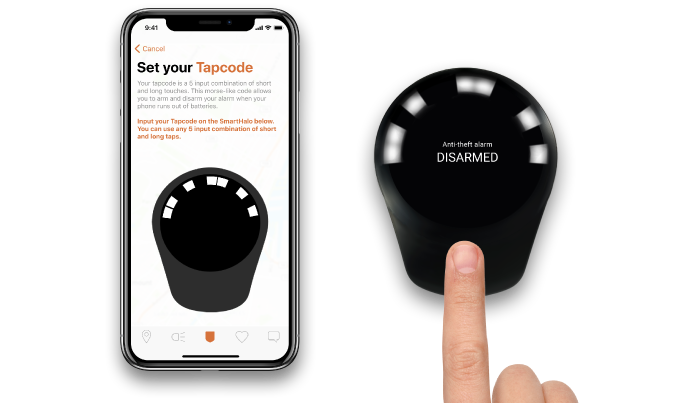 Lost your phone or it ran out of battery? Don't panic! Simply input your custom Tapcode (a combination of long and short taps, a bit like morse code) on the device to manually deactivate the alarm.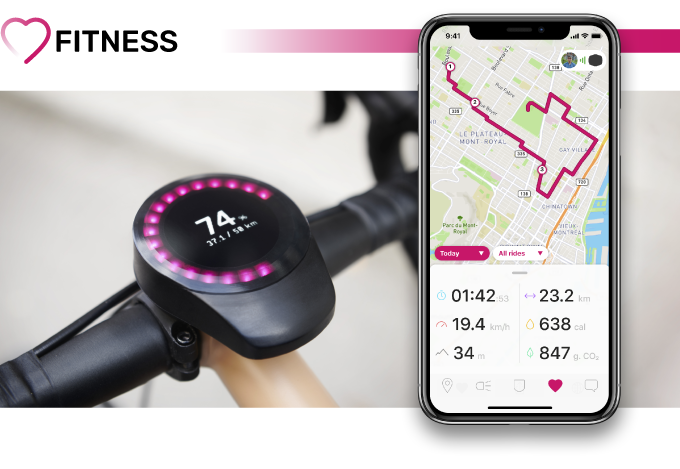 Cycling metrics such as speed, distance, calories, elevation, CO2 saved and time are tracked automatically as soon as you start pedalling. No need to press "start" or "stop", SmartHalo will save every ride. Feel like showing off? Simply push your rides to Strava (or Apple Health. Or Google Fit. Up to you!).

Tech Specs

In the Box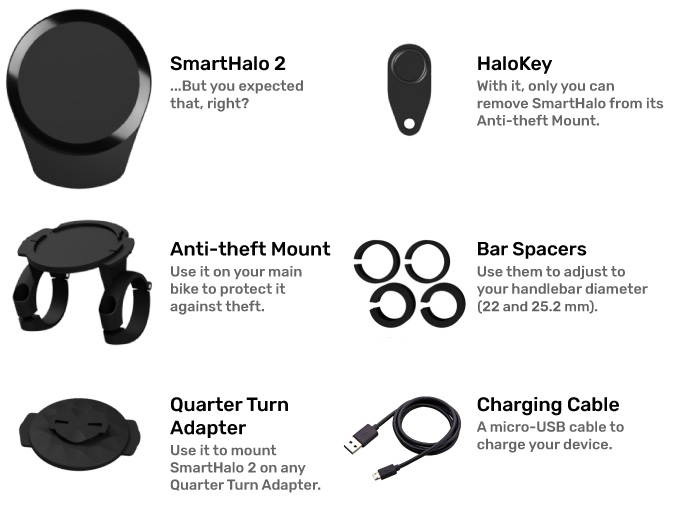 AFTER-SALE SERVICE
We offer 100% satisfaction guarantee, 40-day back money guarantee and 2-year warranty.
We have 24/7/365 Facebook Messenger and Email support.
Shipping takes 

7-15 Days

 depending on location.
SALES ENDING SOON