PrinCube is the ultimate handheld, portable printer. It's ultra-lightweight, fits in the palm of your hand and lets you create fast, vivid, color printing anywhere. It works over Wi-Fi with your phone to easily upload any text, image, or design and instantly print onto virtually any object or surface at the touch of a button. Printing has never been more mobile and more convenient
This incredible lightweight, color printer is portable enough to take the power of inkjet printing on-the-go anywhere you want. Its color inkjet personalizes ordinary objects, makes messages that stand out and is the perfect tool for arts and crafts. It's perfect for business travel, events, art and fun.

The biggest limitation of traditional printers is that they can only print on paper. Until now, expensive laser engravers and screen-printing were required for putting logos and lettering on everyday objects. Now, with the PrinCube handheld portable printer, virtually any object can be printed upon. It makes precise prints on virtually any materials including paper, metal, textiles, plastics, wood, leather and other building and artistic materials.
Print on rough, curved and uneven surface
It works on any texture or shape even on the skin, and can print over uneven surfaces with ease.

In addition to other surfaces, PrinCube is perfect for making safe temporary tattoos on the skin. Get creative with any design to add art or messages to the skin in a safe way.

PrinCube is designed for practicality and convenience. It works with both iPhone and Android and getting started is easy. After a simple app install and setup, this palm size printer is ready to go in just three simple steps: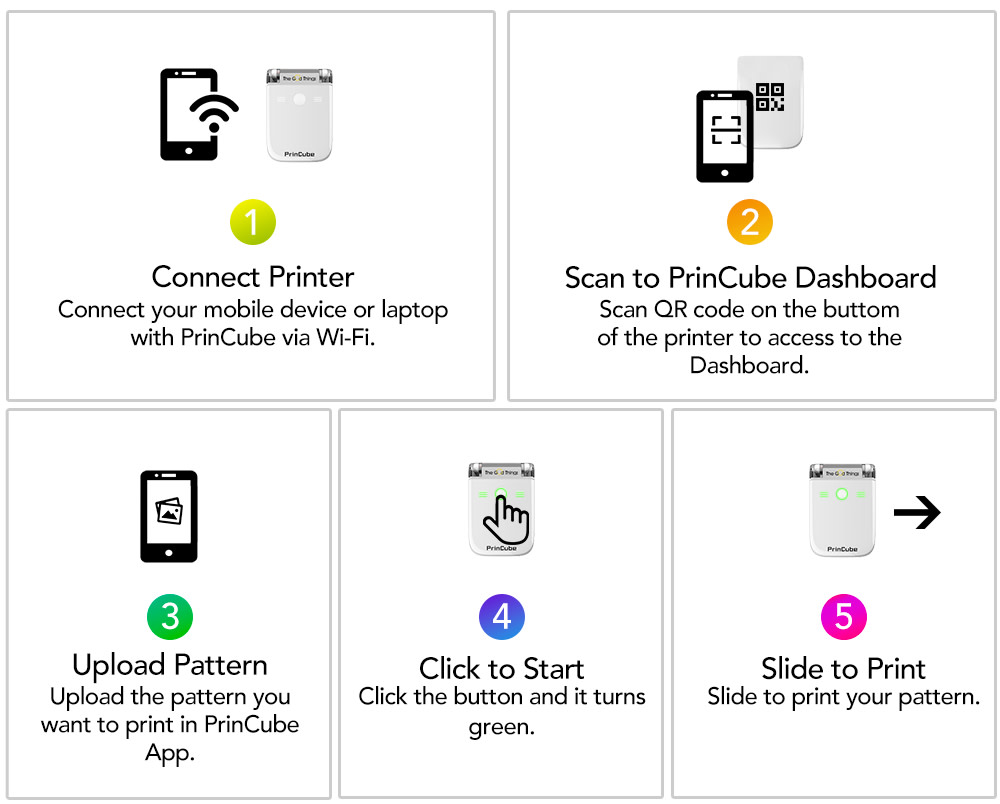 PrinCube works seamlessly with your smartphone and all the printing operations can be controlled with a single print button. It can connect to a mobile hotspot or Wi-Fi to smartphone or computer. Then, simply select an image or text, hit the button and print away!

Until now, other portable printing options were limited to Black & White printing only. PrinCube is the world's only portable full color printer. It utilizes the latest 3-Color Thermal Ink-jet Technology that provides vivid color printing. Now the portable printing experience is elevated with lifelike, full color printing on any surface.

PrinCube Enables multi-line printing feature. You can print a total of 3m/9.8 feet content when using the powerful multi-line freature.



Using the latest battery technology, PrinCube is always ready to work. A single charge provides 6 hours of working time and an incredible 1 year of standby time! The high efficiency printer has 20 times more memory than other mobile printers and is capable of printing over 415 pages of A4 paper on a single cartridge! The extended working time and high output volume makes PrinCube perfect for business travel and special events where charging may not be possible.

PrinCube's revolutionary compact design sets users free from the desk. It is wireless, works over Wi-Fi and is lightweight and ultra-portable. At only 72x51x68mm it is small enough to fit into a pocket or handbag and travel anywhere.
The ergonomic design makes it easy to print with one hand and at only 160g (including print cartridge) , which the lightest printer available today.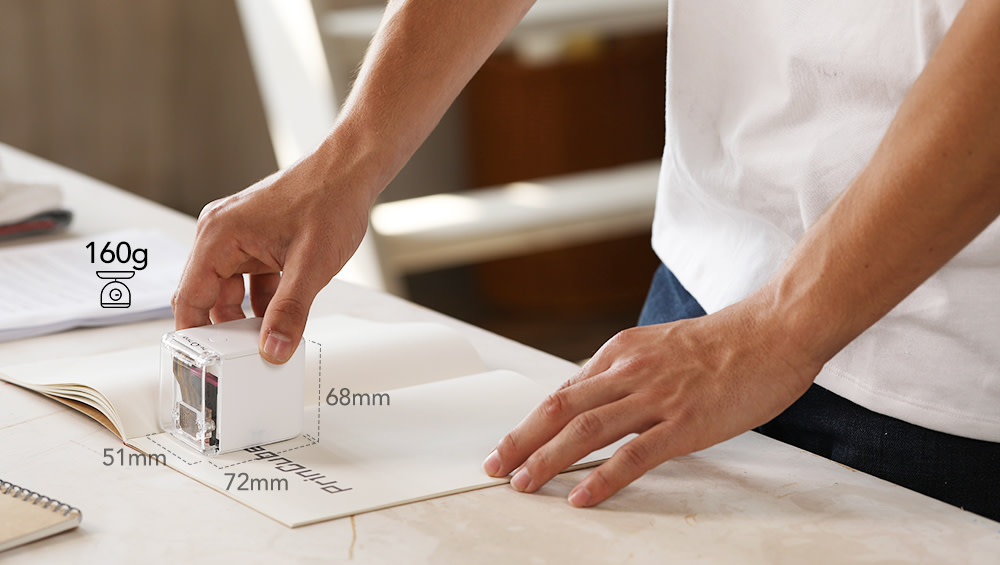 When it's time to change the ink cartridge it is easy to do in seconds, simply open PrinCube, press in the new cartridge and get back to printing.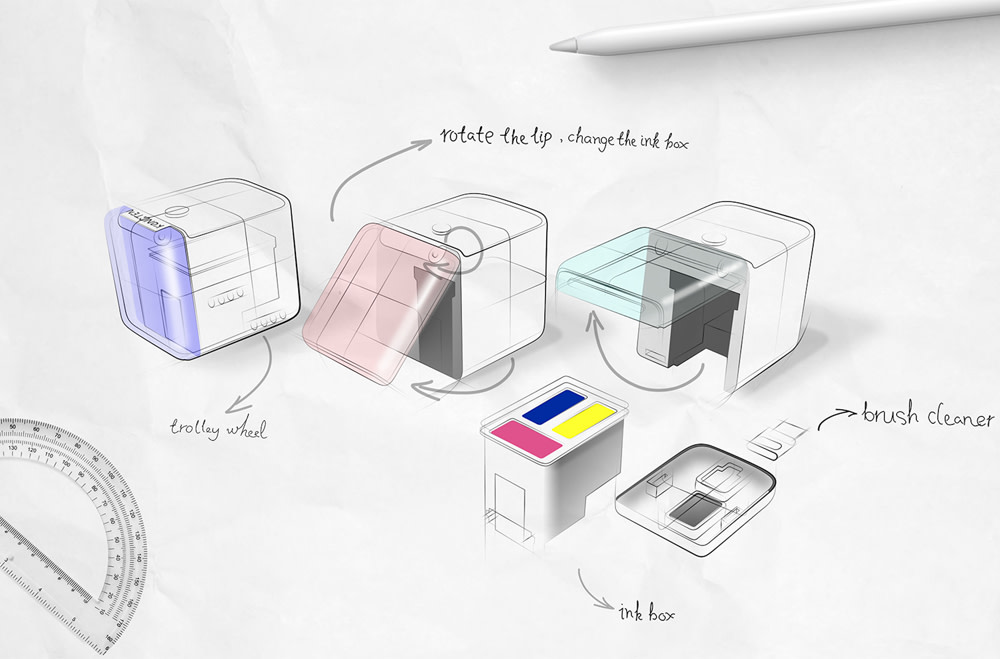 PrinCube has a contemporary design that makes it portable, ergonomic and stylish. With simplicity in mind, all the printing operations can be controlled with a single print button. It charges using the latest USB Type-C port that is preferred for reliability and fast throughput for mobile devices.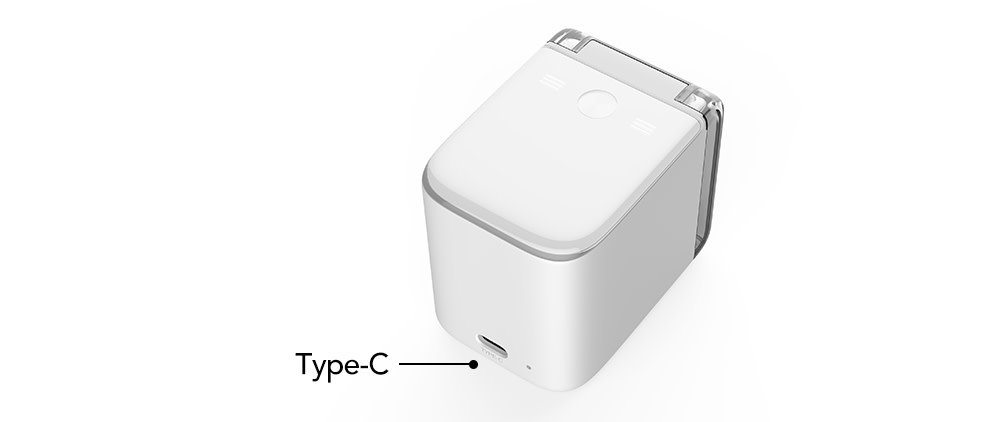 We included a fun and useful bonus feature that makes PrinCube even more unique. Its Secret Printing function allows two users to share encrypted information between each other. The information sent is only revealed once it is printed out. A great way to share a secret or keep classified information hidden.

Technology changes fast and we understand the need to stay on the cutting edge. PrinCube supports API secondary development to meet the unique needs of makers now and in the future. Future upgrades will continue and be made available to all users.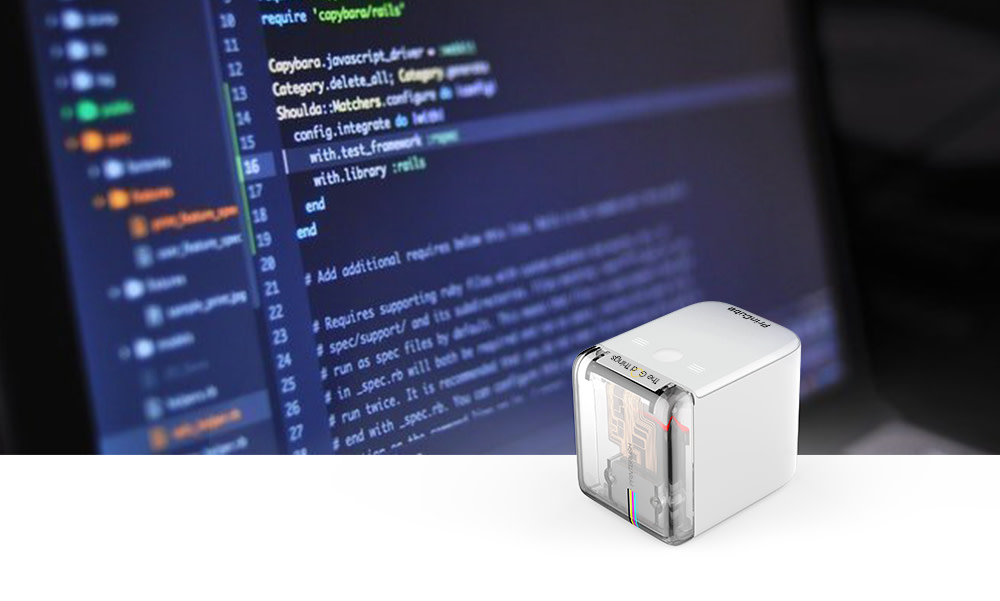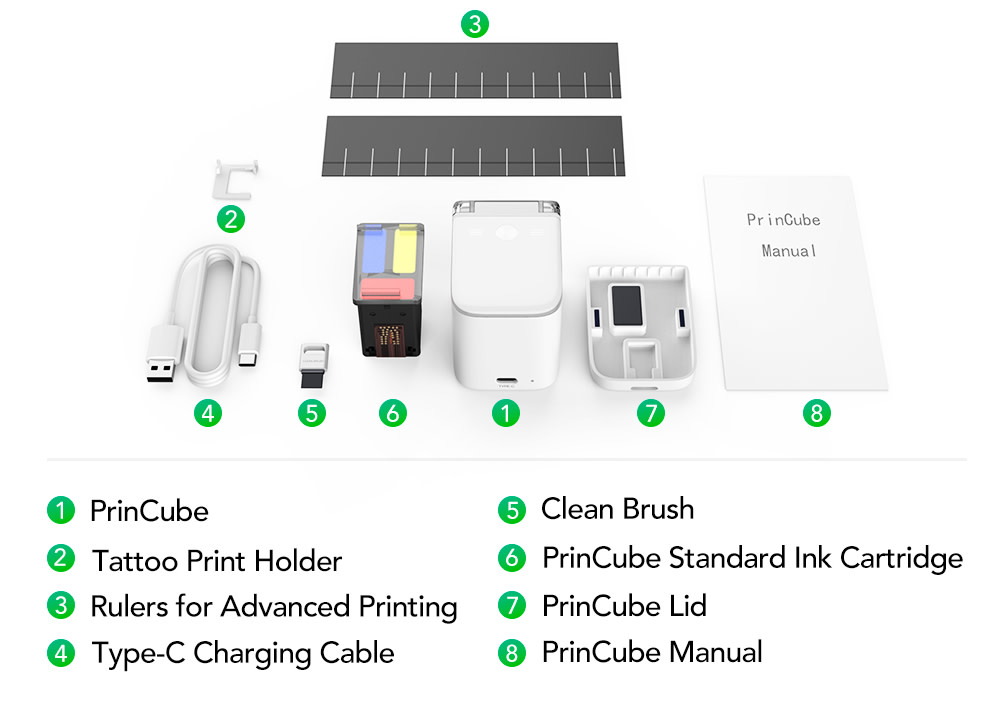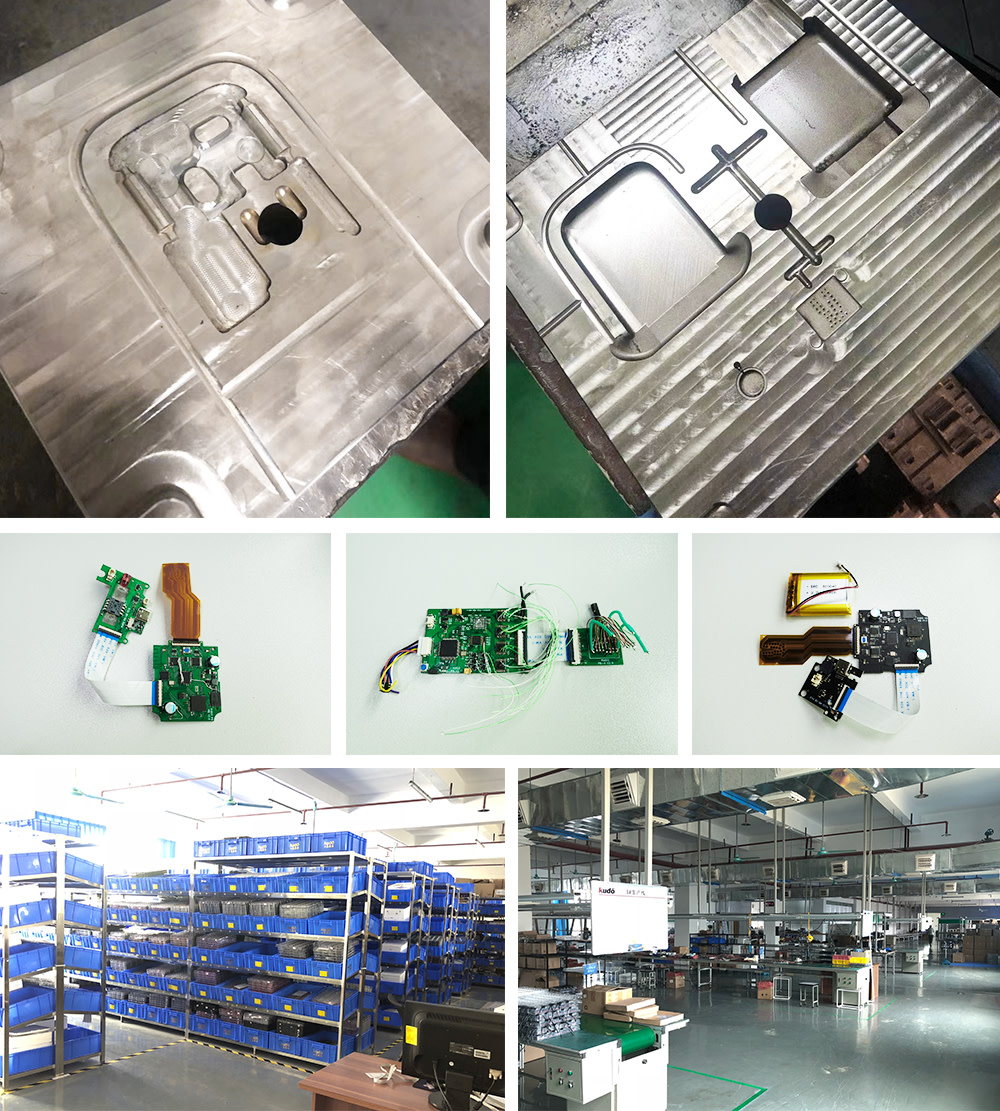 Frequently Asked Questions
1. What are the maximum printing dimensions with a single pass?
The maximum printing hight is 14.29 mm/0.5625 inch. For a single pass, it can print 1.3m/4.26 feet long. On multi-line printing mode, it can print up to 3m/9.8 feet. If you want to print the pattern with larger dimensions, you can use the multi-line feature with the help of rulers to put them together.
2. Normally, how often do I need to refill or change the cartridge?
A single cartridge can print up to 415 full pages of paper (A4), enough for a year of daily use.
3. How long does the ink last on shirts and other washable objects?
The printing will last for a long time until you wash it or it's soaked with water or sweat, which will wash away the ink. If you want a permanent printing, we recommend you take our permanent ink cartridge, which uses the eco-solvent ink. You can choose it in the add-on options.
4. How's the working time/battery life?
Princube integrates a 900 mAh battery. For a single charge, it can continuously print for 6 hours with 1 year of standby time.
5. How does it take to fully charged?
2 hours normally. For a single charge, it can continuously print for 6 hours with 1 year of standby time.
6. Can I print on metal/glass?
Yes, you can print on the metal/glass. To make it more durable, we suggest you use the permanent ink cartridge, which delivers permanent printing with solvent-based ink. You can get it in the add-on option.