MOAR bikes take all the best features in existing electric bikes and enhance them with industry firsts — making them the most innovative and ultimate e-bikes on the market today.
With a battery of up to 80 miles of range, up to 31 mph top speed, and a multitude of advanced safety features, MOAR bikes are unlike any other electric bike. These bikes are also the only e-bikes that have full 100mm suspension, fat tires, and a foldable frame all in one patented design!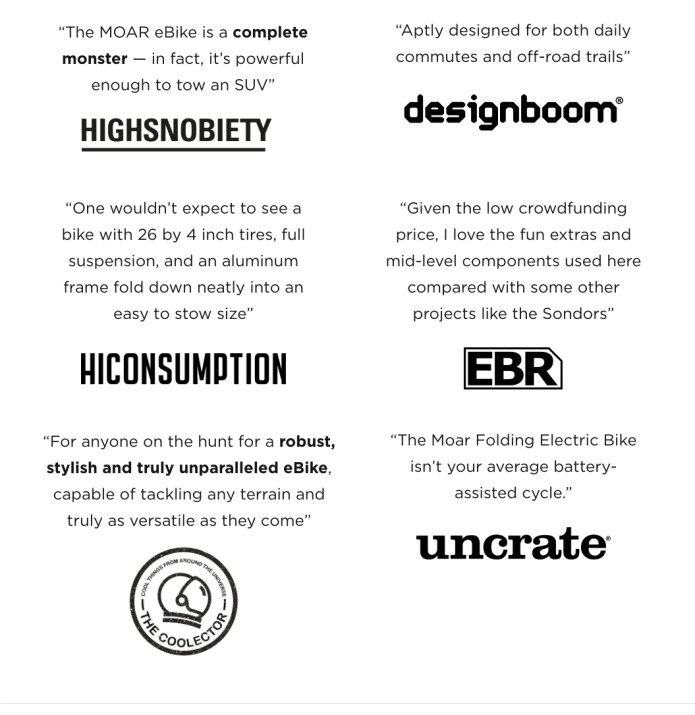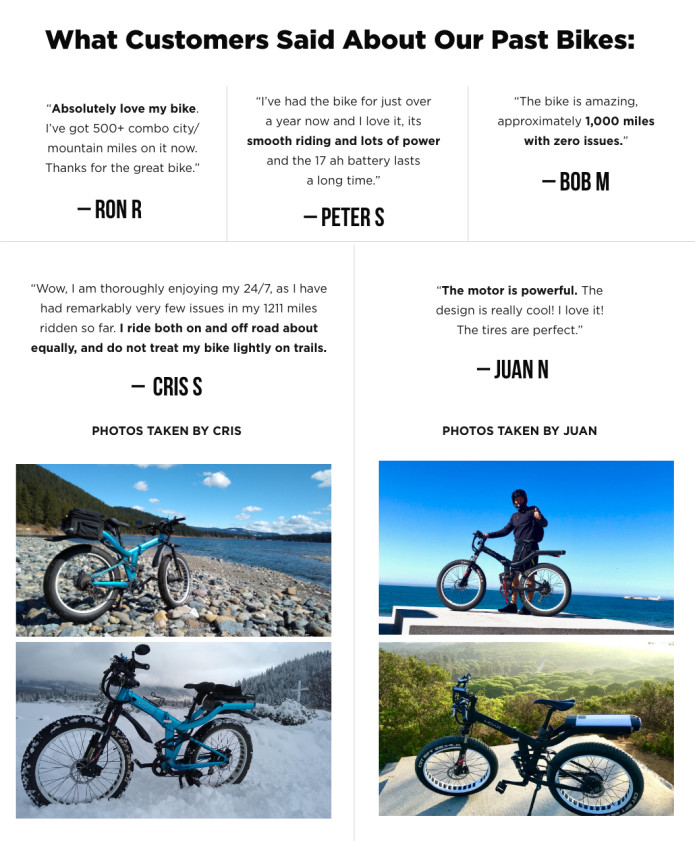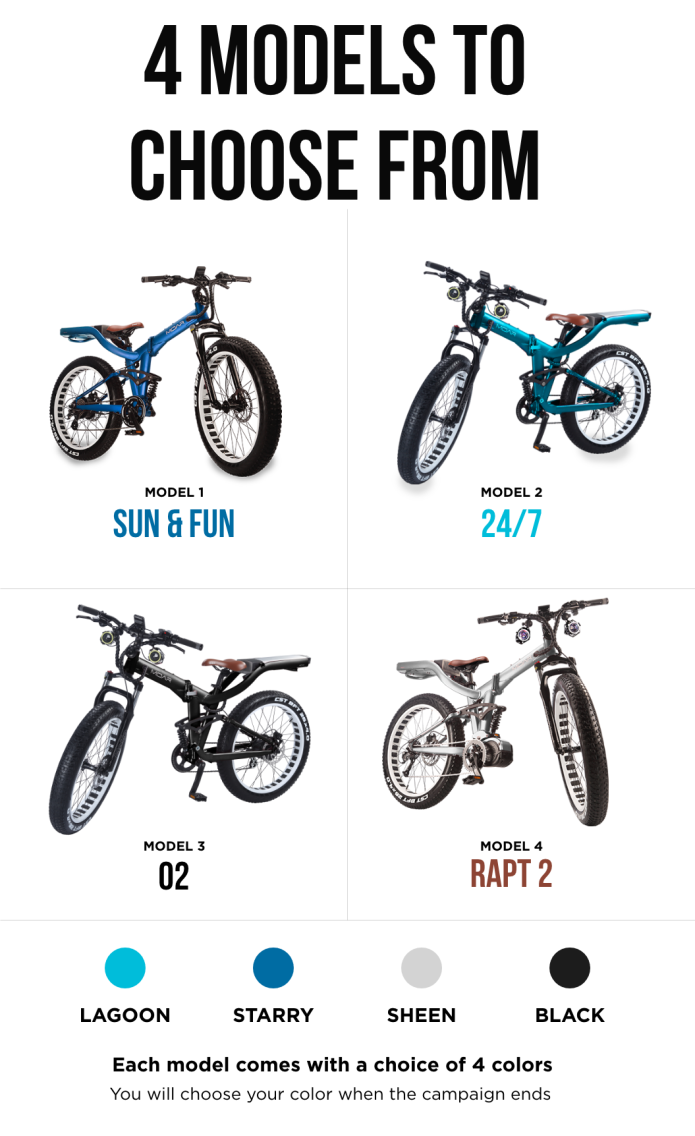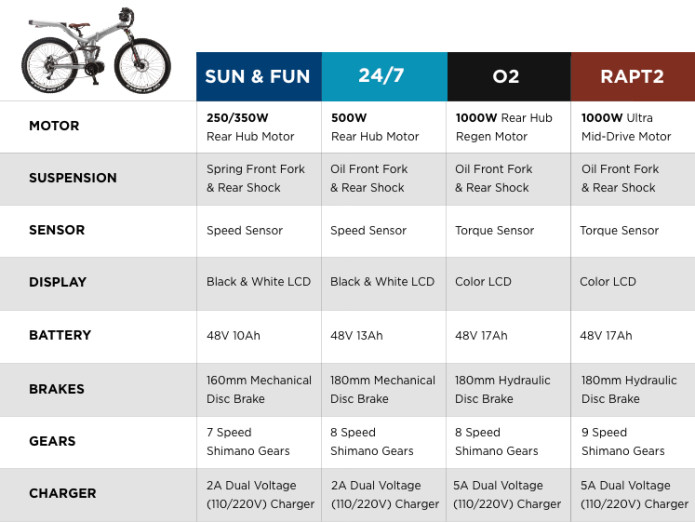 Powerful, fast, and unlike any e-bike on the market, MOAR distinguishes itself from the rest with its unmatched power, innovative safety features, sleek design, and incredibly smooth riding.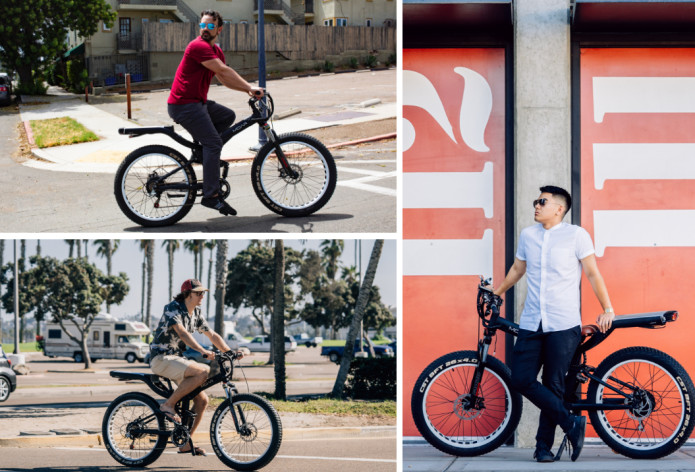 Zip through your commutes, run errands like boss, rip through trails, and have a ton of fun doing it.



What would make a weekend trip to a new city or a national park even better? Exploring it from the back of a powerful ebike.
MOAR bikes fold perfectly in half and features a removable front wheel — making it easy to stow and carry.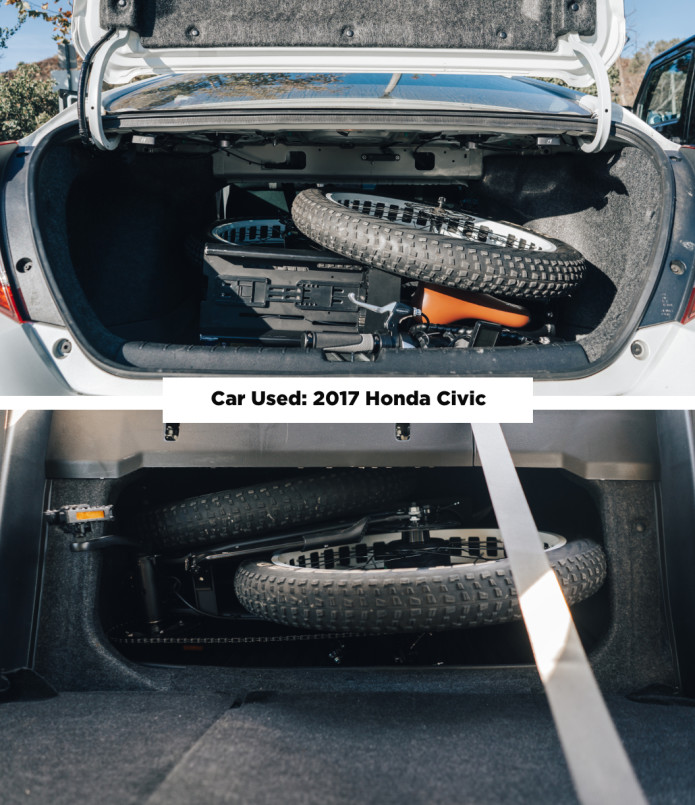 MOAR bikes are straight fun. Part of that fun is the ability to tackle not only cement and asphalt but also dirt and gravel. No road? No problem.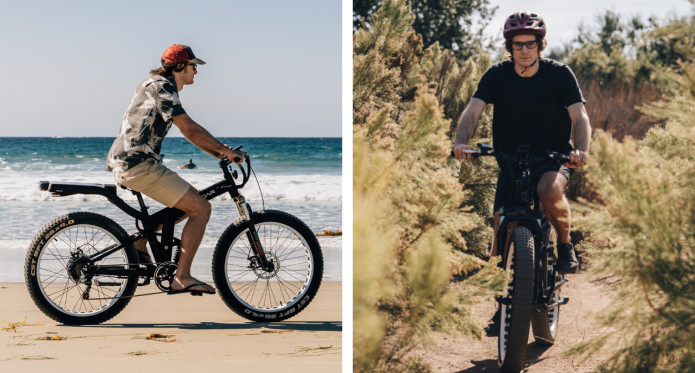 MOAR bikes use fat tires, powerful frames, and full 100mm dual suspension to give you the strength, durability, and maneuverability of a professional mountain bike. There's no limit to where you can go or how much fun you can have.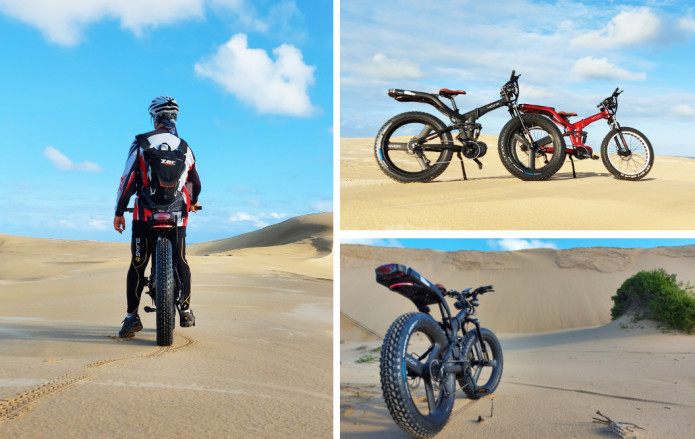 With great power, comes great responsibility. We wanted to ensure a powerful and safe ride for everyone — so our safety features come standard without the need to upgrade or do messy DIYs. These features ensure you always get a safe and fun ride, no matter the circumstances.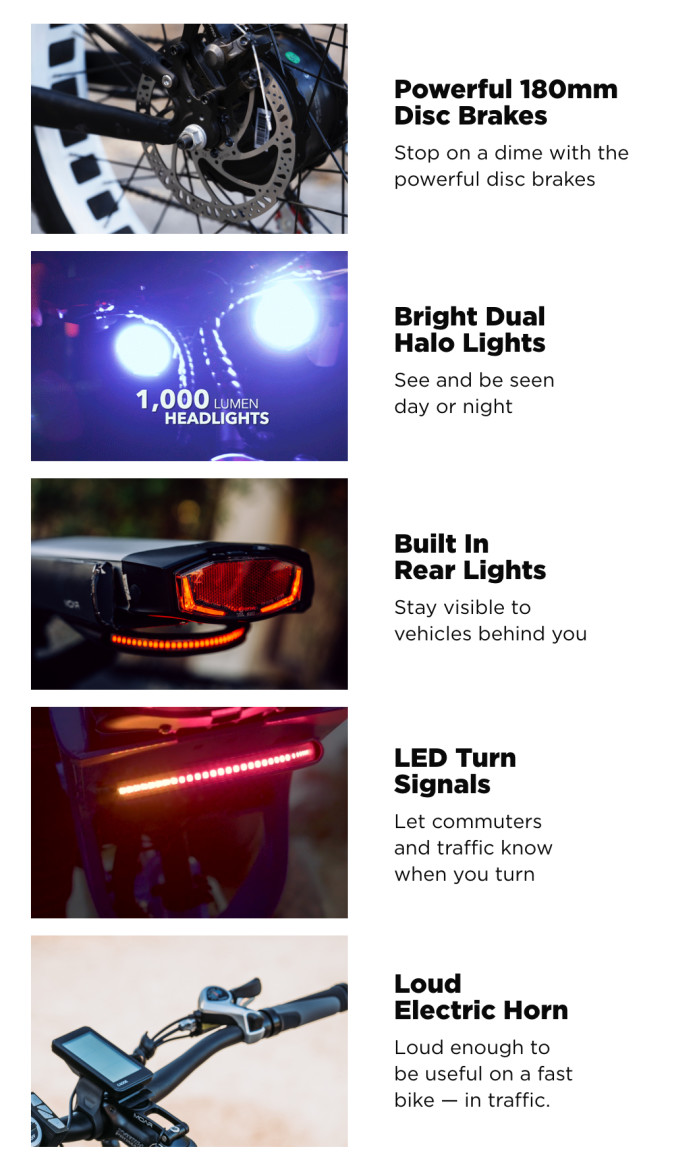 MOAR bikes are equipped with both front and rear suspensions.
The full-suspension reduces wear and tear on your body and bike. It softens impact and reduces fatigue on your hands, legs, and joints. It also increases traction — letting you stay in control over rough terrain or higher speeds.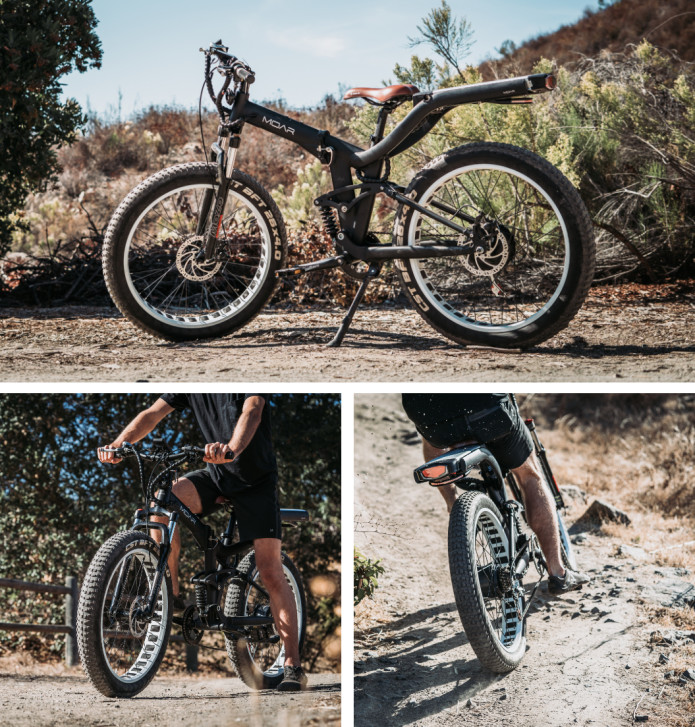 With 100mm of suspension travel, you can tear through city streets without worry or take it to the trail! MOAR will handle every bump, drop, crack, or hole like it was nothing.

The frame of the bike is made with 6061 aircraft grade aluminum — the same material used in some expensive premium cars. Despite the lightweight frame, MOAR is built to haul weight and endure extreme use. It can even carry up 275 lbs of weight.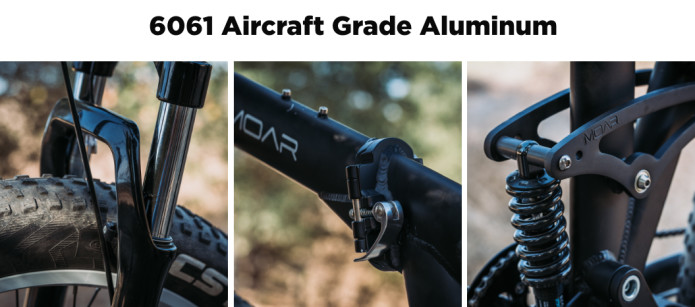 The top grade aluminum also guarantees that your Moar ebike will not rust — a big factor if you live by the coast, humid climates, or anywhere where they salt the roads.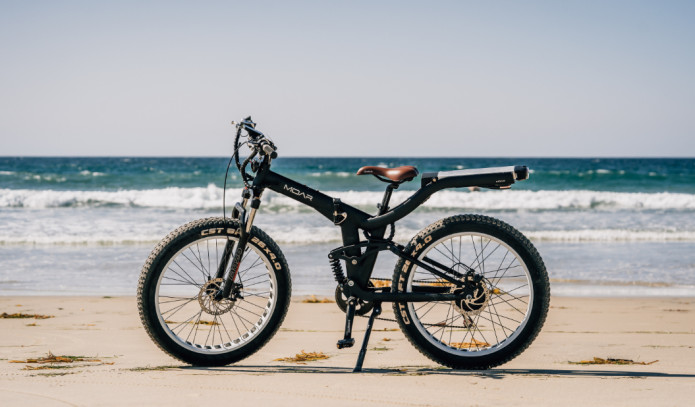 MOAR comes with a rear rack to make commuting and running errands easy. With the optional Quick Release Rack Mount, you can carry your groceries, or any other personal items you may want to bring on the go.
The sturdy rack is welded to the frame and independent of the rear suspension — ensuring your stuff stays stable and secure.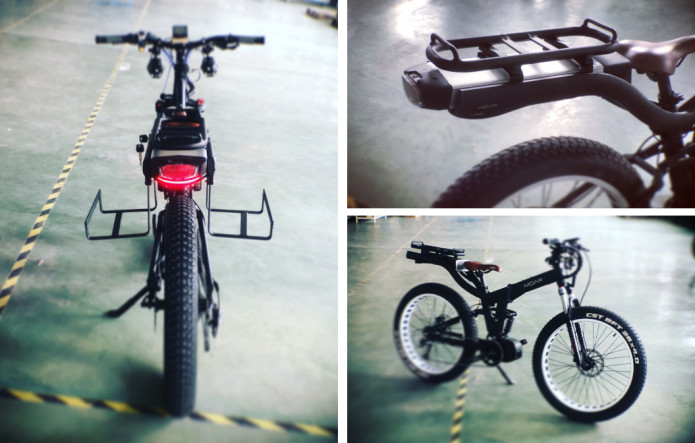 Bring fun back into the way you bike and commute. With a powerful motor, long-lasting battery, fat tires, dual suspension and so much more, MOAR bikes are guaranteed to be the most fun you've ever had on a bike.
Forget sitting in traffic, paying for gas, or the crowded hassle of public transit. Jump on MOAR and see just how fun your commute can get.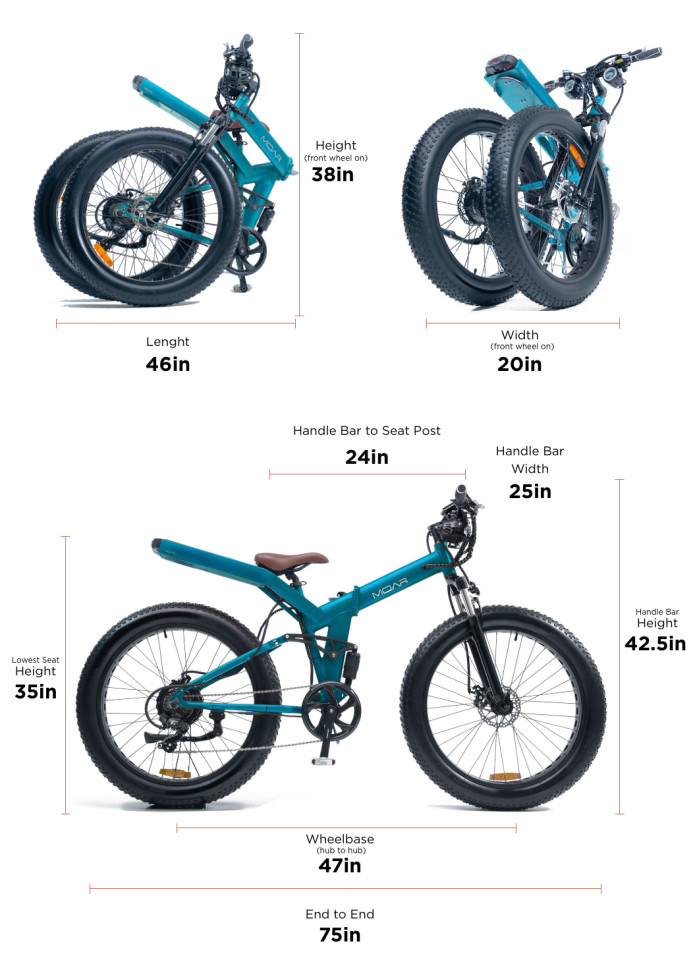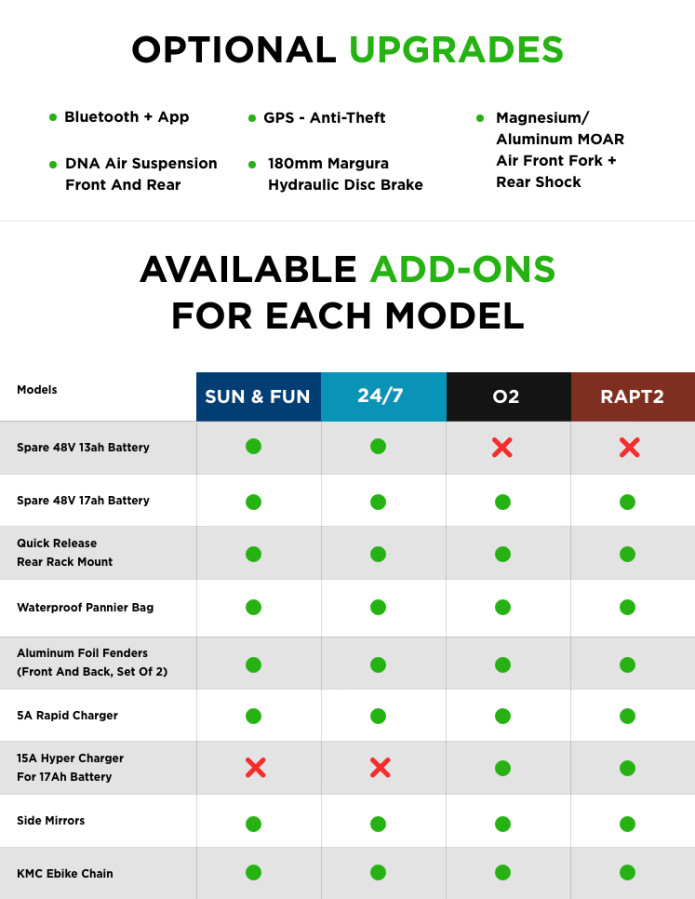 MOAR is co-founded by Ken, Valentina and Nemat.  We are a team of people passionate about e-bikes coming from varied backgrounds of advertising, engineering, fashion, desert motor racing, documentary making, photography, TV commercial productions and computer science.  We are tinkerers and makers. We like to do things the right way, which sometimes is not necessarily the easiest way. That is why we designed our own e-bikes with unique features that are best suited for e-biking, which you do not find on most of our competitors in the market. Features that you might find being adopted a few years down the road by other brands.
We pride ourselves as being the market leader on innovations. That's the way we like to keep it.
Our first campaign with our patented e-bike was a great success. Unfortunately the success brought with it a lot of challenges. We got beaten down a lot, made too many mistakes to list, but we always learned and worked hard, and eventually we managed to tackle them all. We were able to ship most of the orders except for a small number of backed orders which we will build and deliver upon with the new tweaked frames we have on our gen2 bikes.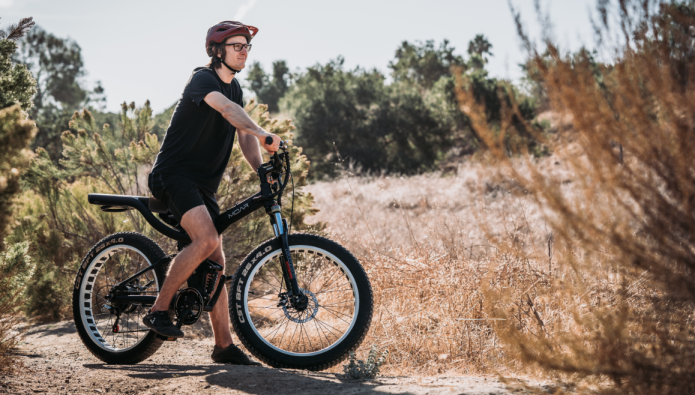 We are taking all the lessons we have learned from the last campaign including numerous feedback rounds and inputs from our passionate backers and totally overhauled our production, fulfilment, and after sales servicing. We designed a refined frame, changed factories for better production processes, improved quality control, and changed our workflow.
On top of that we have added something very exciting this time, another first in the e-bike market: A rear hub drive, 1000w compact re-gen motor that recharges your battery when you brake or go downhill.
This is something utterly exciting and we are proud to be the first to offer this on our O2 line of e-bikes.
We just want you to have the best ebike on the market!